About Us
Since the first Muramatsu flute was created in 1923 by the late Koichi Muramatsu, thousands of artists worldwide have chosen Muramatsu over all other brands. Leadership was later passed to his son, Osamu Muramatsu and today the factory carries on the same tradition of excellence in flute-making under the direction of his grandson, Akio Muramatsu. Every flute that bears the Muramatsu name is built with the care and precision that has earned Muramatsu its reputation as one of the world's finest professional flutes. Today Muramatsu sells more professional model flutes worldwide than any other flute maker.
America's Sole Importer
Muramatsu flutes have been available for sale in the United States since 1975. Ervin Monroe was involved in this process as the artistic consultant. In 1995, Osamu Muramatsu personally selected Mr. Monroe to be president of the new North American distributorship, Muramatsu America. Muramatsu America is the exclusive distributor for Muramatsu flutes in North and South America. We are pleased to offer American flutists the convenience of our complete sales and service facilities.
Sales
Muramatsu America maintains an extensive inventory of Muramatsu flutes at all times and can promptly provide these fine instruments, usually within 48 hours, for trial to interested customers. Our staff is always ready and eager to assist in any way and will politely provide help to those considering a quality flute purchase. All flutes we sell directly are fully warranted and backed by Muramatsu America.  To ensure that we can attend to you during your time with us, please call ahead before visiting during office hours Monday-Friday noon to 5pm. Private appointments are also available.
Factory Authorized Repair Service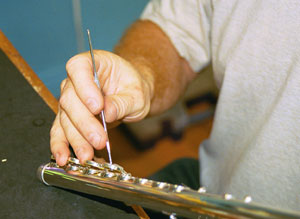 We offer complete flute service for previously-owned Muramatsu flutes and use only Muramatsu repair parts which are installed by factory-trained repair personnel. Our service prices are reasonable and satisfaction for all repairs is guaranteed. We highly recommend that flutists who own Muramatsu flutes use our service department for all maintenance repairs as well as flute overhauls. In this way, your Muramatsu flute will receive the best service available, maintaining the instrument's full potential. Please note that we cannot accept responsibility for, or provide warranty on any Muramatsu flute which has been subjected to "filing down" or altering of tone holes or key cups. We do not recommend this technique of flute padding for Muramatsu flutes.
Flutes sent for service should be addressed to Muramatsu America, 915 South Main Street, Royal Oak MI 48067. We recommend UPS Second Day Air or Federal Express as a quick and efficient way of shipping. All repairs will be done promptly and returned accordingly. Call us if you have any questions at (248) 336-2323 or email flute@muramatsu-america.com.  To ensure that we can attend to you during your time with us, please call ahead before visiting during office hours Monday-Friday noon to 5pm.  Private appointments are also available.
We at Muramatsu America thank you for your interest in the Muramatsu flute and look forward to serving you personally!
—The staff at Muramatsu America